77 år efter afslutningen på Anden Verdenskrig, og 23 år efter at krigen i Eksjugoslavien sluttede, er Europa igen hærget af en blodig, meningsløs krig. Heldigvis har vi lagt coronapandemien bag os, og foråret står på spring – men med krigen i Ukraine som baggrund bliver det en dyster vår.
Hvis du ligesom os andre trænger til at koble lidt af fra alle de grumme nyheder, der lige nu præger mediebilledet, så kan du flygte ind i en god film eller serie og for en stund sætte hjernen på pause.
PS: Du kan donere penge til det livsvigtige hjælpearbejde i Ukraine her!
Netflix
Ironisk nok har den største af streaming-tjenesterne en dystopisk krigs-thriller på plakaten i marts.
I den svenske film Sort krabbe er Sverige besat af en fremmed magt – Rusland (!) – og Noomi Rapace, norske Jakob Oftebro og danske Dar Salim skal aflevere en dødbringende pakke i fjendeland. Rejsen foregår om vinteren, over spejlblank, usikker is.
Global premiere den 18. marts.
Allerede nu kan du opleve Nikolaj Coster Waldau (Game of Thrones) som den danske polarforsker Ejnar Mikkelsen i filmen Against the Ice, der havde premiere i sidste uge.
Den 11. marts kommer Ryan Reynolds' nye film, The Adam Project. Filmen fortæller historien om den rapkæftede pilot Adam (Reynolds), som må rejse tilbage i tiden for at redde verden og møder en 12-årig version af sig selv i 2022.
Men den største nyhed på Netflix i marts er nok 2. sæson af Bridgerton.
Som en vellykket blanding af Dollars, Askepot, Farlige forbindelser og Downton Abbey – plus et strejf af Fifty Shades of Grey – blev Bridgerton en megasucces, da Netflix lancerede serien i julen 2020.
Læs også
Det kåde borgerskab
Vellykket kostumedrama er en blanding af Dollars, Askepot, Farlige forbindelser og Downton Abbey – plus et strejf af Fifty Shades of Grey.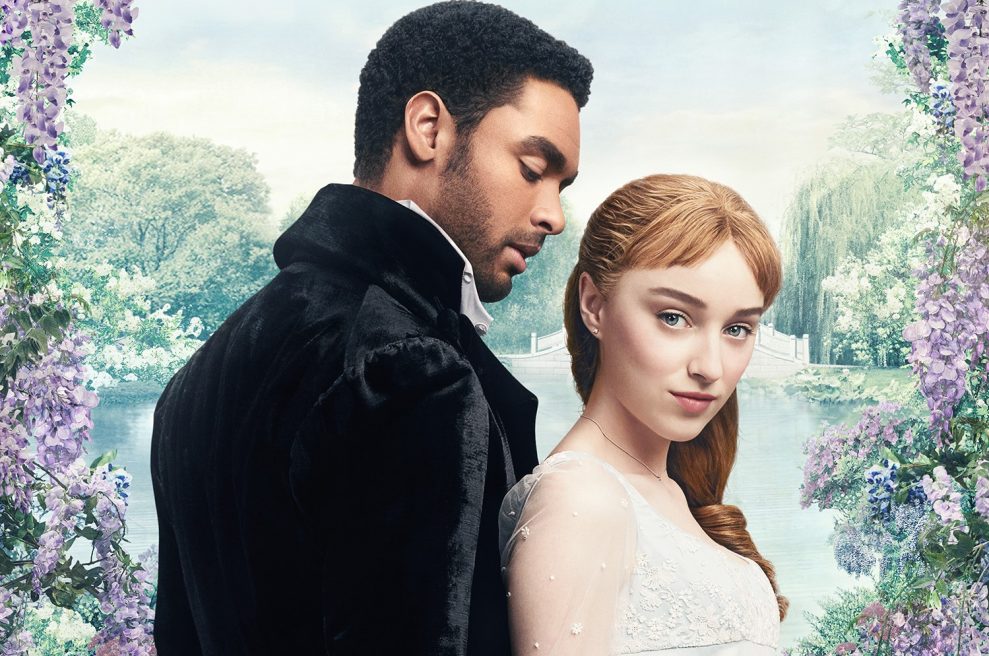 I 2. sæson følger vi Lord Anthony Bridgerton i hans søgen efter kærlighed. Anthony (Jonathan Bailey) er den ældste af Bridgerton-søskendeflokken og leder efter en passende brud. Han er drevet af pligt til at opretholde familienavnet, men hans høje standarder gør det svært at finde en aktuel kandidat – indtil Kate Sharma (Simone Ashley) og hendes lillesøster Edwina (Charithra Chandran) ankommer fra Indien.
Se flere af denne måneds Netflix-højdepunkter her:
Disney+
Disney+ byder på en varieret martsmenu, hvor familiens yngste garanteret vil glædes over den nye Pixar-film Rød. Filmen skulle oprindelig have haft biografpremiere, men kommer nu i stedet direkte på streaming, inkluderet i det almindelige abonnement.
Rød er en opvæksthistorie, der handler om teenageren Mei Lee (Rosalie Chiang), som har en meget overbeskyttende mor. Da Mei Lee en dag får nok og lader sin vrede tage over, bliver hun forvandlet til en stor rød pelskugle.
Premiere den 11. marts.
Musicalfans kan glæde sig over Steven Spielbergs version af klassikeren West Side Story. Premieren var den 2. marts.
Horror-fans (inklusive Armie Hammer) kan se frem til den nye gyserfilm Fresh. Filmen følger Noah (Daisy Edgar-Jones), der møder den dragende Steve (Sebastian Stan) i et supermarked og – i frustration over sin manglende succes på dating-apps – tager chancen og giver ham sit nummer.
Efter den første date bliver Noa betaget af Steve og accepterer hans invitation til en romantisk weekend. Her får hun sig dog en overraskelse, da hun opdager, at hendes nye elsker har holdt en usædvanlig appetit skjult for hende …
Premiere den 4. marts.
Månedens definitive højdepunkt fra Mickey Mouse & Co. er den nye Marvel-serie Moon Knight! Serien følger den lidt kiksede Steven Grant (Oscar Isaac, Star Wars), som har et simpelt job i en souvenirbutik, men plages af gentagne blackouts og minder fra et andet liv.
Steven opdager, at han lider af dissociativ identitetsforstyrrelse ("personlighedsspaltning") og deler krop med lejesoldaten Marc Spector. Mens Stevens/Marcs fjender samler sig, må de navigere i deres komplekse identiteter, samtidig med at de kastes ud i et dødeligt mysterium, der involverer det gamle Egyptens mægtige guder …
Premiere den 30. marts
Hvis du ikke fik set Guillermo del Toros nye cinematiske filmperle i biografen, kan du opleve Bradley Cooper, Rooney Mara og Cate Blanchett i Nightmare Alley fra den 16. marts.
HBO Max
Fifty Shades of Grey-stjernen Jamie Dornan kan ses i den nye miniserie The Tourist. En britisk mand (Dornan) vågner op i Australiens ødemark – såret og uden nogen erindringer. Nu må han kæmpe for at få sin hukommelse tilbage, før fortiden indhenter ham.
Premiere den 3. marts.
I en ny serie om basketball-holdet Los Angeles Lakers kan du se et all star-hold bestående af bl.a. John C. Reilly, Jason Clarke, Quincy Isaiah, Solomon Hughes, Adrien Brody, Sally Field, Lisa Gay Hamilton og Michael Chiklis.
Miniserien Winning Time: The Rise of the Lakers Dynasty har premiere den 7. marts.
Du kan også muntre dig med komedieserien Lust om midaldrende svenske kvinders sexliv – eller mangel på samme.
Sofia Helin (Broen), Anja Lundqvist, Julia Dufvenius og Elin Klinga spiller hovedrollerne i Lust – en hudløst ærlig komedie om kvinder i fyrrerne, der kæmper for at holde lysten i live i en seksuelt frustrerende tid.
Lust får global premiere den 18. marts.
Og hvis du ikke fik set kæmpeøglen over dem alle i biografen, kan du streame Godzilla: King of the Monsters fra den 30. marts. Michael Dougherty står for instruktionen, og i hovedrollerne ses Kyle Chandler (Mayor of Kingstown) og Millie Bobby Brown (Stranger Things).
Amazon Prime Video
Sci-fi-fans kan måske glæde sig over 2. sæson af originalserien Star Trek: Picard med legendariske Patrick Stewart i hovedrollen. 2. sæson havde premiere på Amazon Prime den 4. marts.
Ben Affleck og Ana de Armas (Blade Runner 2049, No Time to Die) spiller hovedrollerne i den erotiske thriller Deep Water, hvor jalousi, mistillid og forbitrelse er ved at rive New Orleans-parrets ægteskab i stykker.
Instruktøren af den nervepirrende thriller er Adrian Lyne, der bl.a. stod bag 9½ uge, Farligt begær, Et frækt tilbud og Unfaithful, så det er en genre, han burde mestre.
Premiere den 18. marts.
Apple TV+
Apple-fans kan bl.a. hygge sig med 2. sæson af den anmelderroste animationsserie Central Park. Syng med, når der er premiere den 4. marts!
Personligt ser vi dog mere frem til at se excentriske Jared Leto og fyrrige Anne Hathaway i WeCrashed, der er inspireret af faktiske begivenheder – og kærlighedshistorien i centrum af det hele.
WeWork voksede fra et simpelt kontorfællesskab til et globalt brand med en værdi af 47 milliarder dollars på under et årti. Men så kollapsede værdierne på under et år. Hvad skete der?
Premiere den 18. marts.
Paramount+
Den nyeste af streaming-tjenesterne lokker sine abonnenter med den gaming-inspirerede serie Halo. Denne nye sci-fi-serie er baseret på Xbox-spillet af samme navn; et spil, der har solgt vanvittige 82 millioner eksemplarer.
Premiere den 24. marts.
Dagen efter, den 25. marts, kommer den nye dramakomedieserie The Game. Amerikansk fodbold i Las Vegas er emnet, mens temaerne er berømmelse, rigdom og (selvfølgelig) kærlighed.
Men det, du ABSOLUT skal se på Paramount+ i marts, er sæsonfinalen af Taylor Sheridans fantastiske western-epos 1883! Tilgængelig fra den 7. marts.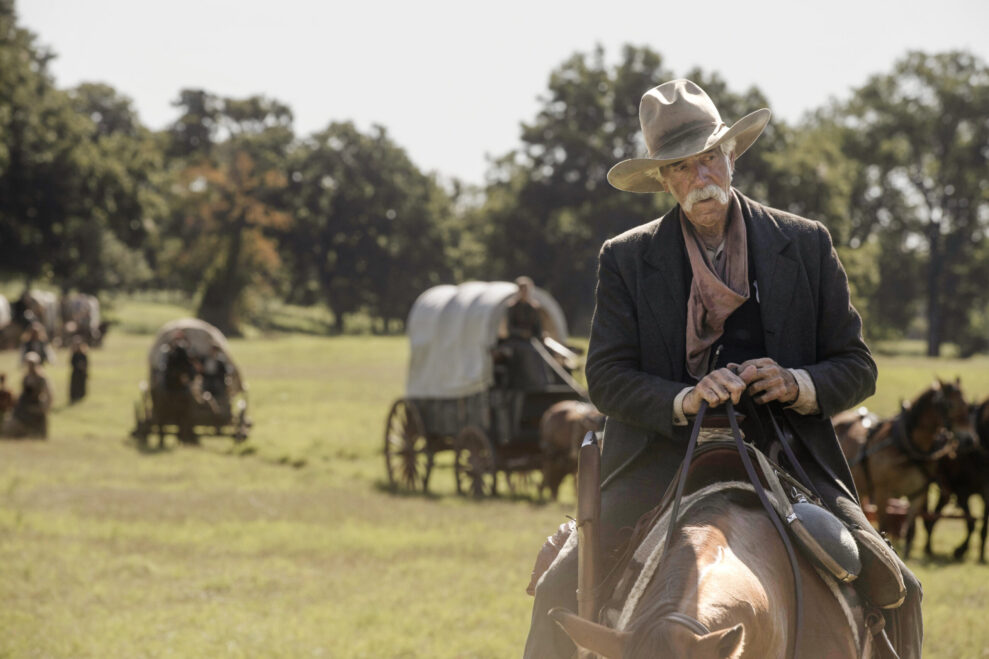 Viaplay
I marts måned byder vores hjemlige streaming-tjeneste bl.a. på to nye originale serier samt 6. sæson af Outlander.
Fra den 7. marts kan du streame 6. sæson af den historiske dramaserie, hvor forholdet mellem Claire Randall og soldaten Jamie Frasier er i centrum.
Under en ferie i Skotland i 1945 besøger Claire Randall (Caitríona Balfe) en stencirkel og bliver pludselig teleporteret tilbage til 1743 og et Skotland præget af krig og katastrofer. Hun bliver kidnappet og møder senere den skotske soldat Jamie Fraser (Sam Heughan), som hun forelsker sig i, og som kommer til at forme hendes liv i en helt ny retning.
Dramaserien The Holiday kan streames fra den 13. marts. I denne miniserie møder vi Kate (Jill Halfpenny), som inviterer nære venner og familie til Malta, da hun fylder 40. Men idyllen får en brat ende, da hun opdager en mystisk besked på hendes mand Seans telefon, som indikerer, at han (Owen McDonnell) har en affære med en af hendes veninder.
Kate forsøger at finde frem til sandheden, men indser for sent, at opgaven er større, end hun kunne have forestillet sig – og at nogen er parat til at dræbe for at holde hemmeligheden skjult.
Den 21. marts kan sportsinteresserede se en dokumentarserie om den danske tidligere verdensetter i tennis Caroline Wozniacki og hendes mand, den tidligere NBA-spiller David Lee.
Wozniacki & Lee handler om parret, efter at de har afsluttet deres respektive professionelle karrierer. Nu står de over for et nyt og spændende liv som pensionerede eliteidrætsudøvere og ikke mindst forældre, efter at datteren Olivia bliver født. Den nye tilværelse giver for alvor tid til refleksion over det hektiske liv, de begge tidligere har levet.
Den komplette liste over alle de nye titler på de største streaming-tjenester finder du nedenfor. God streaming-fornøjelse – og rigtig godt forår, trods alt!