Opdateret …
Nu går vi endelig mod lysere tider!
Vi har netop taget de første vaklende skridt ind i den sidste vintermåned, solen står højere og højere på himlen, og de nordiske lande går forrest i Europa, hvad angår lempelse af de forhadte coronarestriktioner.
Men det er stadig koldt derude, og aftenerne er lange og mørke. Så for os nordboere er det den optimale årstid at tilbringe i sofaen med en kop varm kakao og en fængslende serie eller en heftig actionfilm på TV'et. Så er det godt, hvis man har fuldt hus på streaming-kontoen, for de største aktører byder på masser af god underholdning i februar.
Netflix
Den største af dem alle har en lokal lækkerbisken som et af månedens højdepunkter. Den 17. februar kan du se 2. sæson af Young Wallander, Killer's Shadow, med Adam Pålsson i hovedrollen som Kurt Wallander.
Derudover kan du den 25. februar se fortsættelsen af Vikings, den nye Vikings: Valhalla, hvor handlingen er sat ca. 100 år efter Vikings. Hovedrollerne spilles af Pollyanna McIntosh, Frida Gustavsson og Jóhannes Haukur Jóhannesson (Game of Thrones).
Hvis du er mere til romantisk sydstatsdrama med stærke kvindeskikkelser i hovedrollerne, kan du se frem til 2. sæson af Sweet Magnolias, som allerede har premiere den 4. februar.
Læs også
Space Farce
Steve Carell er glimrende som selvcentreret general i Trumps absurde mission om at få mænd på Månen igen.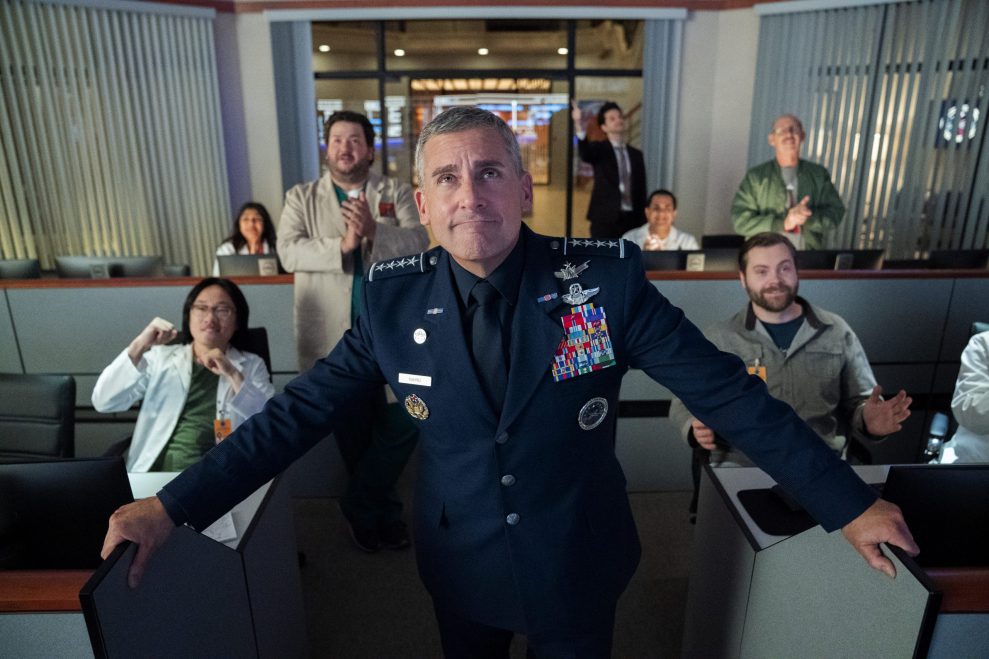 Desuden vil vi gerne anbefale Steve Carell og John Malkovich i storform i 2. sæson af den absurde komedie Space Force (18/2).
Andre seriehøjdepunkter er Inventing Anna (11/2), The Tindler Swindler (2/2), 2. sæson af Love is Blind (11/2), One of Us is Lying (18/2) og Murderville (3/2). Derudover vil vi fremhæve to filmprojekter: Action-krimien Fistful of Vengeance (17/2) samt den italienske fantasy-thriller – med et strejf af romantik! – Dræb mig ikke (Non mi uccidere) (20/2).
Disney+
Månedens definitive højdepunkt fra The Mouse House er den nye voksenserie Pam & Tommy.
En tidligere nøgenmodel og TV-stjernes skandaleombruste liv – med en lækket sexvideo som højdepunkt – er nok ikke det første, man forbinder med The Walt Disney Company og deres kernefamilieværdier. Men nu har en ny miniserie om forholdet mellem Pamela Anderson og Tommy Lee premiere på Disney+.
Pam & Tommy handler om det mildt sagt stormfulde forhold mellem den tidligere Playboy-model og Baywatch-stjerne med de store implantater (Lily James) og Mötley Crüe-trommeslageren (Sebastian Stan), der giftede sig i 1995 efter kun fire dages bekendtskab. De tre første episoder er tilgængelige fra i dag (2/2).
Sidst på måneden kan du se den længe ventede prequel til Kingsman-filmene, The King's Man. I dette action-eventyr møder vi bl.a. Ralph Fiennes, Rhys Ifans og den fyrrige Gemma Arterton. Premiere den 23. februar.
Hvis du er mere til auteur-film, så gå ikke glip af Wes Andersons seneste værk, The French Dispatch (16/2).
The French Dispatch bringer historier til live fra det allersidste nummer af et amerikansk magasin udgivet i en fiktiv fransk by i 1900-tallet. Den stjernespækkede rollebesætning omfatter bl.a. Benicio Del Toro, Tilda Swinton, Léa Seydoux, Frances McDormand, Timothée Chalamet og Bill Murray.
Den 21. februar udkommer sæson 11B (!) af The Walking Dead, mens thriller-dramaet No Exit kan streames fra den 25. februar.
HBO Max
Lige så selvfølgeligt, som at Pam & Tommy er månedens højdepunkt på Disney+, så er det 2. sæson af sci-fi-eventyret Raised by Wolves, der er februars største godbid på HBO Max.
Her møder vi en jordklode, der er hærget af udmattende religiøse konflikter, terror og et krigshelvede uden lige. Planeten anses nu for at være ubeboelig, og den sejrende part, den romersk-inspirerede, fanatisk religiøse Mithraic-sekt, er på en endeløs jagt efter nye beboelige planeter i galakser langt, langt borte.
På den golde ørkenplanet Kepler-22b lander et lille rumfartøj med to androider og nedfrosne menneskelige embryoner om bord. Deres ateistiske skabere har givet dem ét formål: At fremavle sunde menneskebørn, opdrage dem i en ateistisk og pacifistisk retning – og lade dem blive den nye grundsten for menneskehedens fremtid.
Sir Ridley Scott er executive producer og instruerede også de to første afsnit af 1. sæson. Der er premiere på 2. sæson den 4. februar.
Februar byder på mange andre spændende serienyheder fra HBO Max, og et af månedens højdepunkter bliver gensynet med veninderne Lila og Elena i 3. sæson af My Brilliant Friend, baseret på Elena Ferrantes bestsellere. Vi tager også afsked med Killing Eve, når 4. og sidste sæson har premiere den 27. februar.
Steven Soderbergh har instrueret filmen Kimi, en thriller med Zoë Kravitz i hovedrollen.
Der er også mange Warner Bros.-film at vælge imellem på HBO Max, og nye titler bliver tilgængelige på tjenesten 45 dage efter biografpremieren. Nye film fra Warner Bros., som er tilgængelige nu, inkluderer Judas and the Black Messiah, Clint Eastwoods Cry Macho og den prisvindende biografiske film King Richard med Will Smith i hovedrollen.
Andre højdepunkter er den nye serie Naomi fra DC-universet (3/2) samt The Cleaning Lady (3/2), The Girl Before (10/2), State of the Union (14/2), Snowfall (26/2) og The Fallout (1/2).
Desuden kan du allerede fra den 8. februar streame den nye Matrix-film, The Matrix Resurrections.
I The Matrix Resurrections vender vi tilbage til en verden med to virkeligheder: Den ene er hverdagen, den anden er det, der skjuler sig bagved. For at finde ud af, om hans virkelighed kun er en konstruktion, og for virkelig at lære sig selv at kende, må Mr. Anderson (Keanu Reeves) igen vælge, om han vil følge efter den hvide kanin …
Amazon Prime Video
Jeff Bezos & Co.'s seneste satsning er en serie bygget på Lee Childs romanserie om den omstrejfende tidligere elitesoldat Jack Reacher. 1. sæson af Reacher kan ses fra den 4. februar.
Bøgerne om Jack Reacher, Lee Childs testosteronbombe af en enmandshær, er blevet filmatiseret før. To film blev det til med Tom Cruise i hovedrollen (2012 og 2016), uden at det resulterede i nogen særlig kassesucces.
Nu forsøger Amazon Prime Video sig med en serie om denne følelsesmæssigt afstumpede "neandertaler", der lever et liv som hvileløst omvandrende enspænder. Serien har bestemt sin lidt gammeldags charme, men moderne, intelligent og nyskabende er ikke mærkater, vi vil sætte på Reacher.
For de lidt mere kvalitetsbevidste er der endnu et seriehøjdepunkt i februar: 4. sæson af The Marvelous Mrs. Maisel, som handler om den smitsomt sprudlende Miriam "Midge" Maisels usædvanlige og underholdende liv.
Midge kommer fra en baggrund som ung, pligtopfyldende husmor i et velstående, konservativt jødisk miljø i New York i 1950'erne. Men efter et forlist ægteskab – og et par drinks for meget – åbenbarer hendes udprægede komiske talent sig, og Midge begynder (til sine forældres store fortvivlelse) at tjene til livets ophold som standup-komiker. Ikke et helt almindeligt kvindefag for 70 år siden!
Serien byder på frisk og original humor, et skævt kig på 1950'ernes kønsrollemønstre, et fascinerende persongalleri, herlige kostumer og en noget nær perfekt tidskolorit med dertilhørende soundtrack. Og så er Rachel Brosnahan et fund som den fyrrige, balstyrige og livsbekræftende Midge Maisel. Sæsonpremieren den 18. februar.
Andre højdepunkter er Time is Up (4/2), The Hating Game (10/2) og I Want You Back (11/2).
Apple TV+
Seriehøjdepunkter fra Apple TV+ er relativt sjældne, men hvis streaming-tjenesten ikke er bedst på kvantitet, så scorer den ofte højt på kvalitet. Vi har da også store forventninger til den nye thriller-serie Suspicion.
Den heftige actionheltinde Uma Thurman, der blev legendarisk i rollen som "the Bride" i Quentin Tarantinos to Kill Bill-film, har været en relativt sjælden gæst på filmlærredet og TV-skærmen de sidste syv-otte år. Nu har Apple TV+ lokket skuespillerinden ud af sit otium og givet hende hovedrollen i den kommende thriller-serie Suspicion.
Her spiller Thurman den fremtrædende forretningskvinde Katherine Newman, der ender i alvorligt uføre. Newman bliver kidnappet fra et hotel i New York med en efterfølgende intens jagt på de skyldige. FBI's hovedmistænkte er fire briter, som var på hotellet på gerningstidspunktet. Formår de at bevise deres uskyld, og er de virkelig uskyldige?
Premiere den 4. februar.
Andre højdepunkter er Ben Stillers nye dramaserie Severance med Adam Scott i hovedrollen (18/2) samt dokumentarserien Lincoln's Dilemma (18/2).
Paramount+
Star Trek er i fokus på Paramount i februar med sæson 4B af Star Trek Discovery (11/2) og den nye animationsserie Star Trek Prodigy (11/2).
Hvis du er fascineret af Bill Cosbys fald, kan du se den nye dokumentarserie We Need to Talk About Bill Cosby (5/2).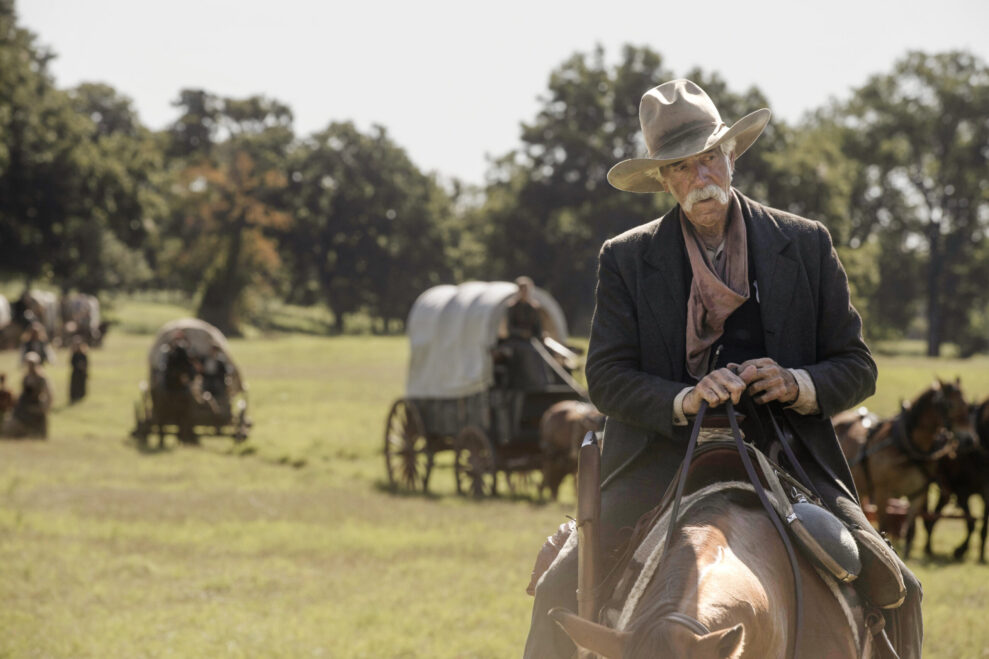 Men det, du ABSOLUT skal få set på Paramount+ i februar, er afsnit 7, 8, 9 og 10 (sæsonfinale!) af Taylor Sheridans fantastiske western-epos 1883!

Viaplay
I februar vender den norske serie Pørni endelig tilbage til vores nordiske streaming-tjeneste!
Den kritikerroste serie er tilbage med 2. sæson om den farverige Middelthon-familie (med Henriette Steenstrup i en glansrolle) og den daglige kamp for at klare tilværelsen.
Blandt månedens øvrige nyheder på Viaplay er en dokumentarserie om Natascha Kampuschs utrolige rædselshistorie.
Natascha Kampusch – A Lifetime in Prison er en splinterny Viaplay-dokumentar om livet i fangenskab og det svære møde med verden på den anden side, hvor offerskyld overskygger friheden. Dokumentaren har verdenspremiere på Viaplay den 24. februar.
Den 20. februar kan du se den nye serie Harmonica af og med svenske Josephine Bornebusch og Jonas Karlsson.
Det er en dramaserie i fem dele om musik, kærlighed og om at finde et hjem. Karlsson og Bornebusch har skrevet manuskriptet og musikken, og spiller også hovedrollerne i serien, der er instrueret af Bornebusch. Alle fem afsnit af Harmonica har premiere den 20. februar på Viaplay.
Den komplette liste over alle de nye titler på de største streaming-tjenester finder du nedenfor. God streaming-fornøjelse – og hav en rigtig hyggelig afslutning på vinteren!